Benoît's large-format all-terrain bike
Benoit asked us to make a bike suitable for his tall size (2m04 for 1m04 for inseam), so that he could ride the paths around Châtel-Guyon, in the Puy de Dôme where he lives. From this need was born the Victoire n°486, a comfortable gravel bike with unusual dimensions.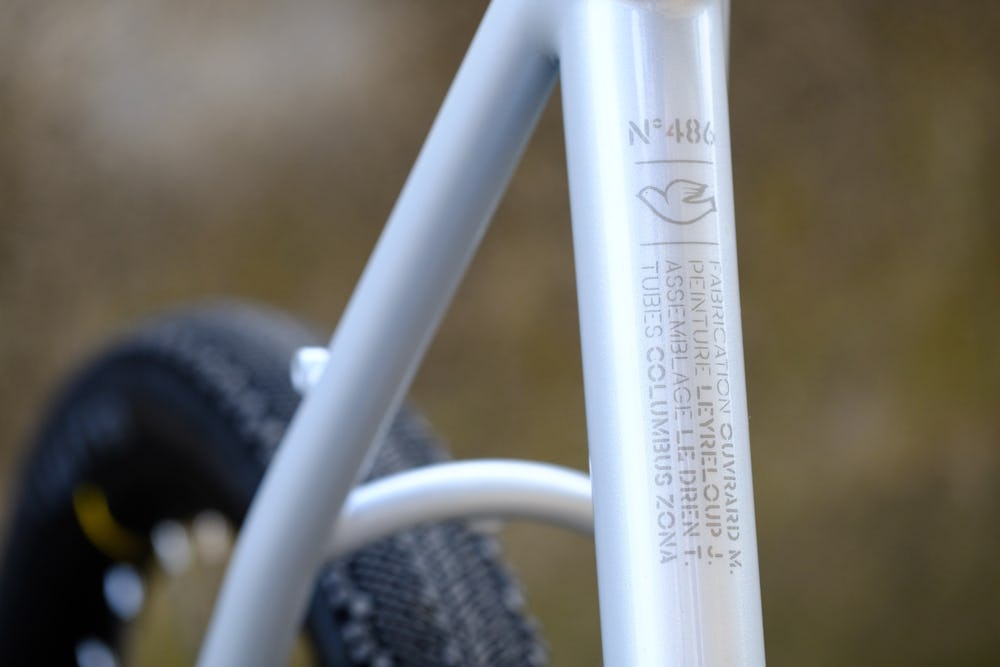 The Victoire n°486's frame was made from the Columbus 29 Zona tube series. Rather intended for practices such as mountain bike, this series with solid tubes was chosen for the realization of this specific frame. The mechanical properties of steel will also offer Benoit greater comfort during his outings on rough terrain.


All the cables of Victoire n°486 are placed inside the frame with reinforced internal passages for more solidity. Option available for all Victoire bikes, the stainless steel bars protect the finish of the bike from the friction generated by the sheaths when the handlebars pivot.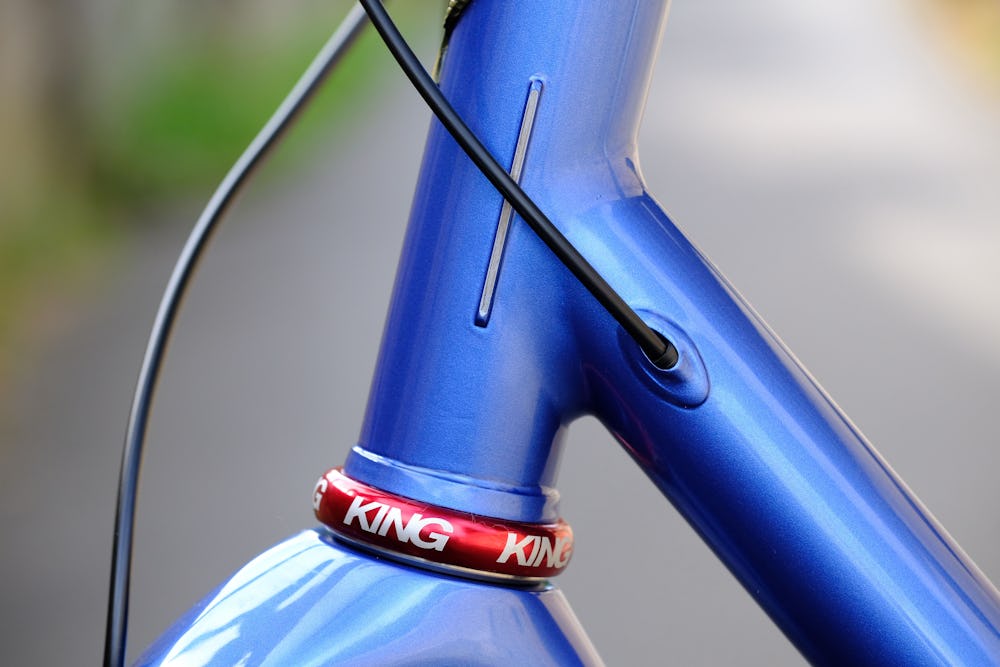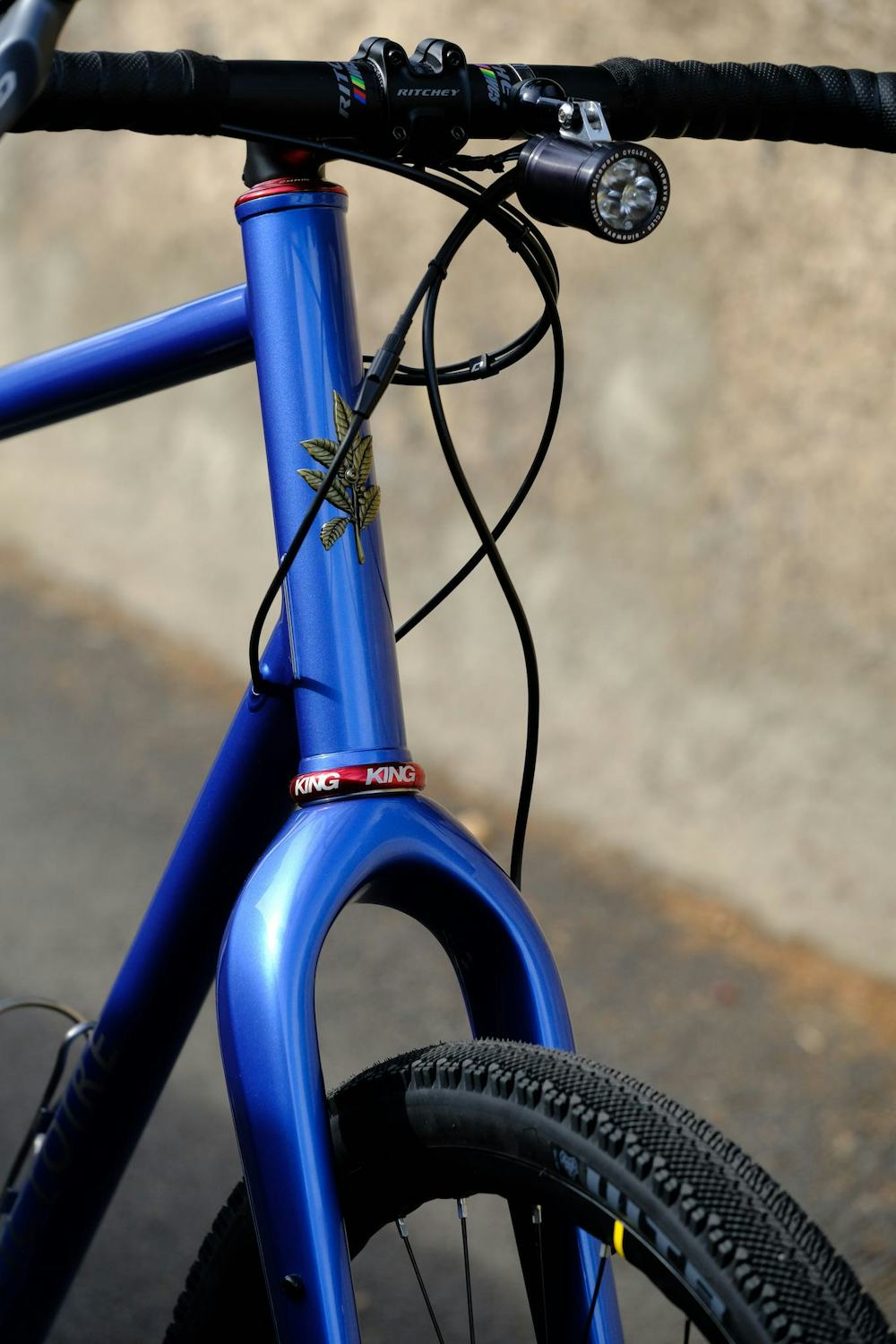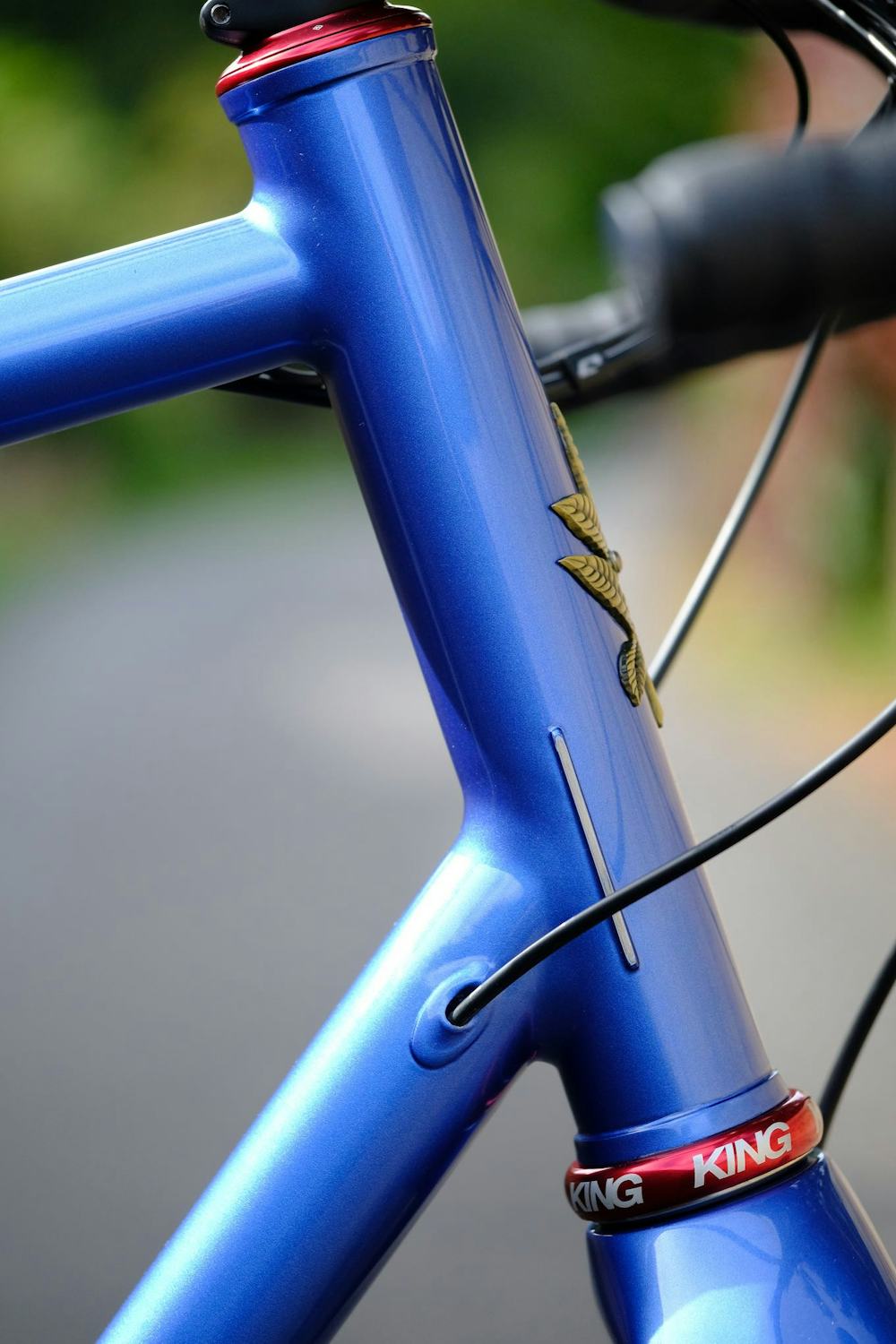 We chose the Colombus Futura Adventure fork, which is usually made for mountain bikers, because of its height which allows it to adapt to Benoit's morphology. Its pivot has not been cut in order to keep the height as important as possible.
The Victoire n°486 bottom bracket is in T47 format. This very rigid bracket case avoids deformation during pedaling and allows dynamic relaunches.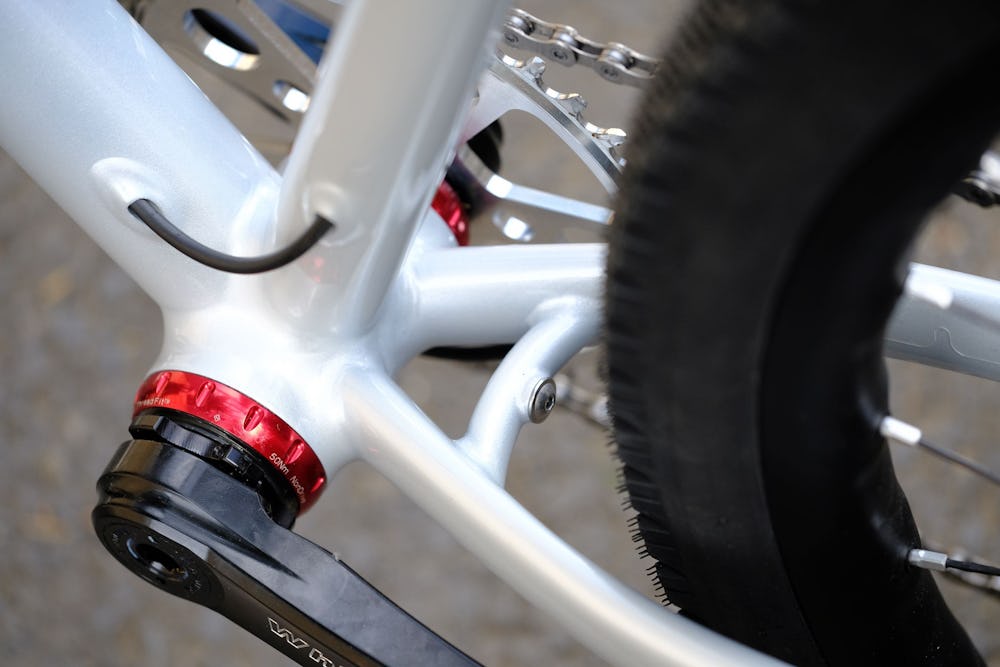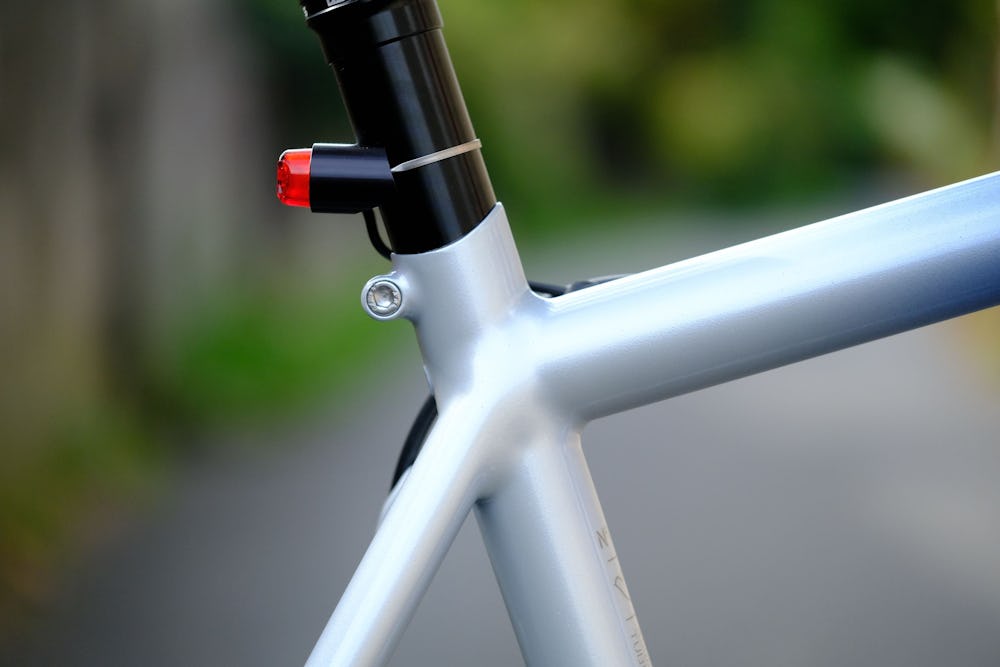 Benoit's Victoire seat tube has an internal diameter of 31.6mm, compatible with all telescopic seatposts on the market. Fitting a telescopic seat post on this project allows Benoit to make it easier to get off the bike, but also to gain confidence in the downhill portions involved.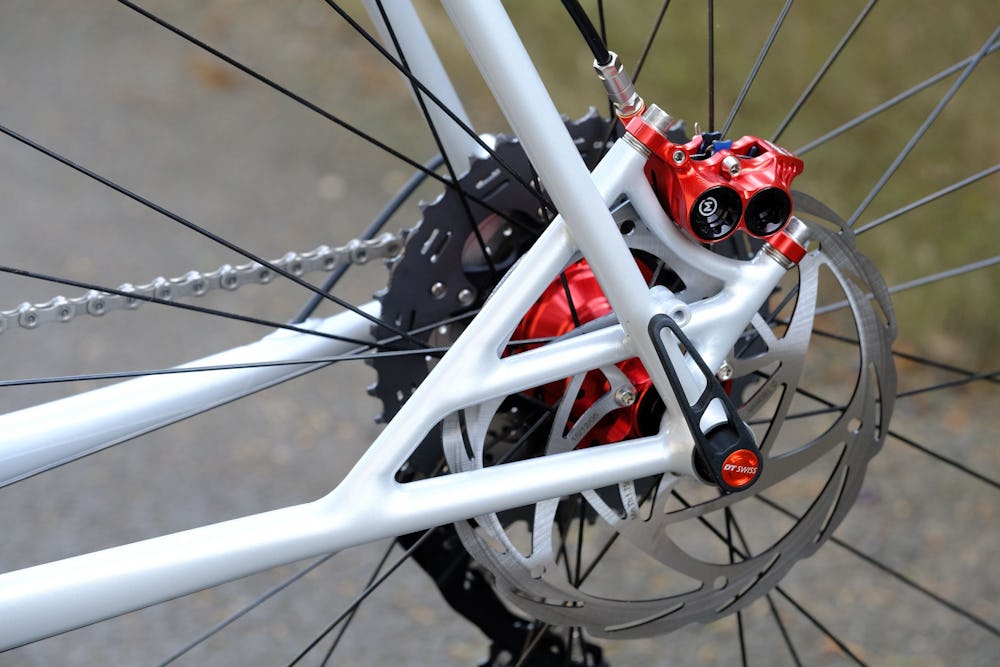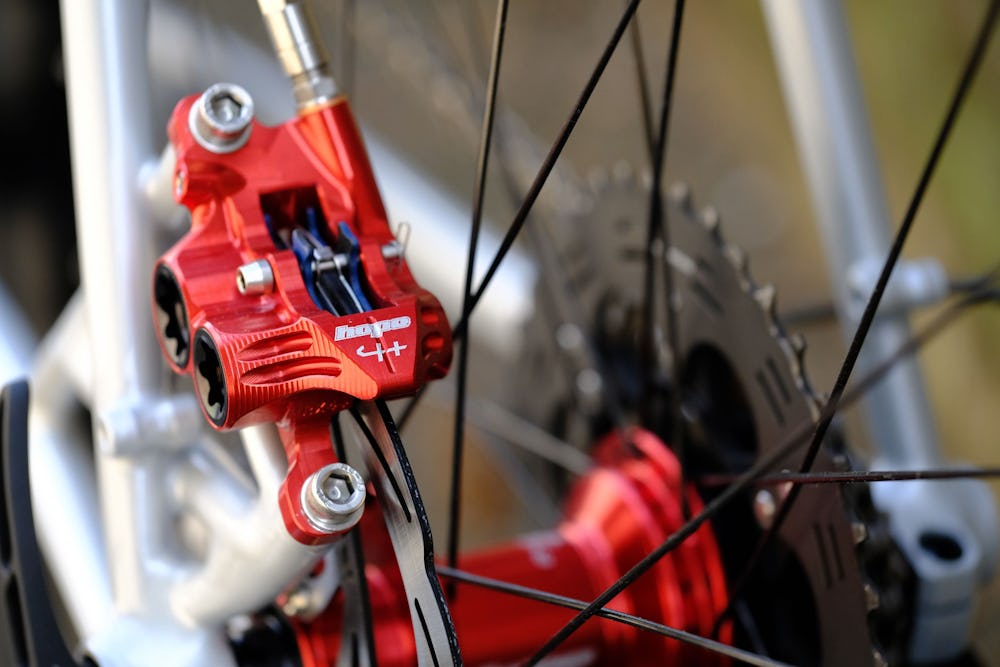 The Victoire n°486 is fitted with a Hope hydraulic disc brake system, chosen by Benoit in a red anodization. The rear brake support has a very specific shape, entirely imagined and produced by Marco, our framer. This unique achievement combines two functions in one : it solidifies the rear triangle of the bike, and receives the brake caliper.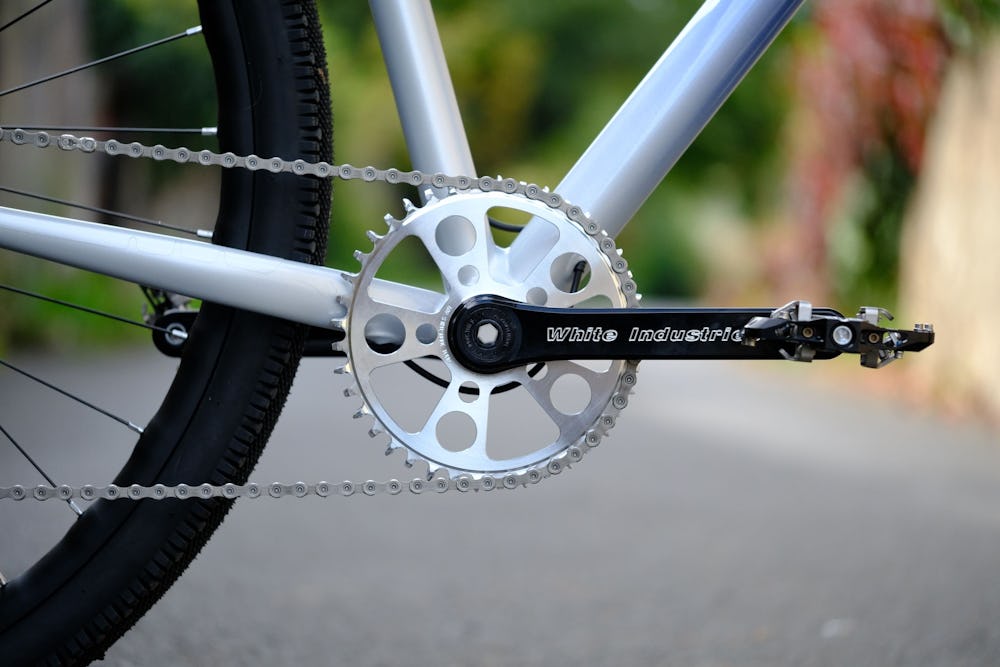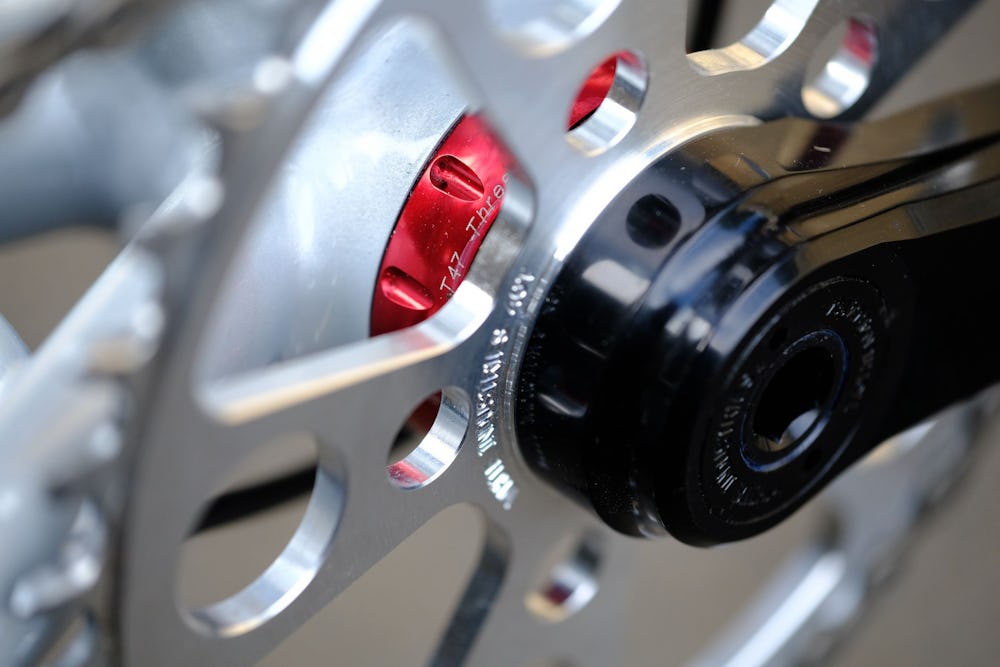 The White Industries crankset is equipped with a 40 tooth chainring, mounted in association with a Shimano XT 8100 11-42 cassette. The bottom bracket, on the other hand, was chosen in a red anodization, as was the headset.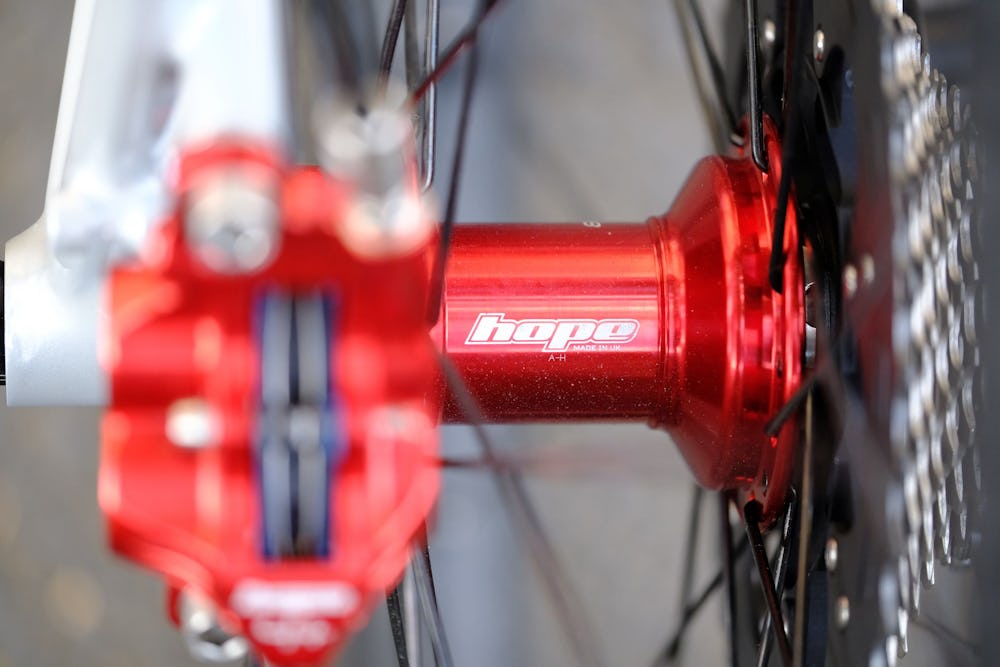 Benoit's wheels have both been hand-spoked in our workshop using Mavic XM1030 circles. At the rear, a Hope Pro 4 hub was chosen for its high reliability.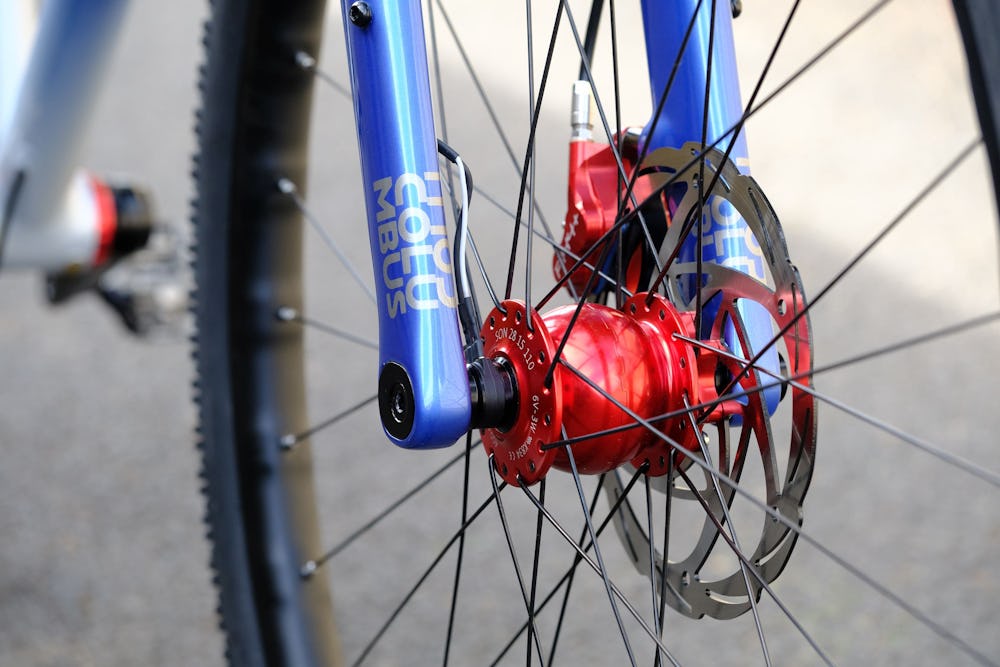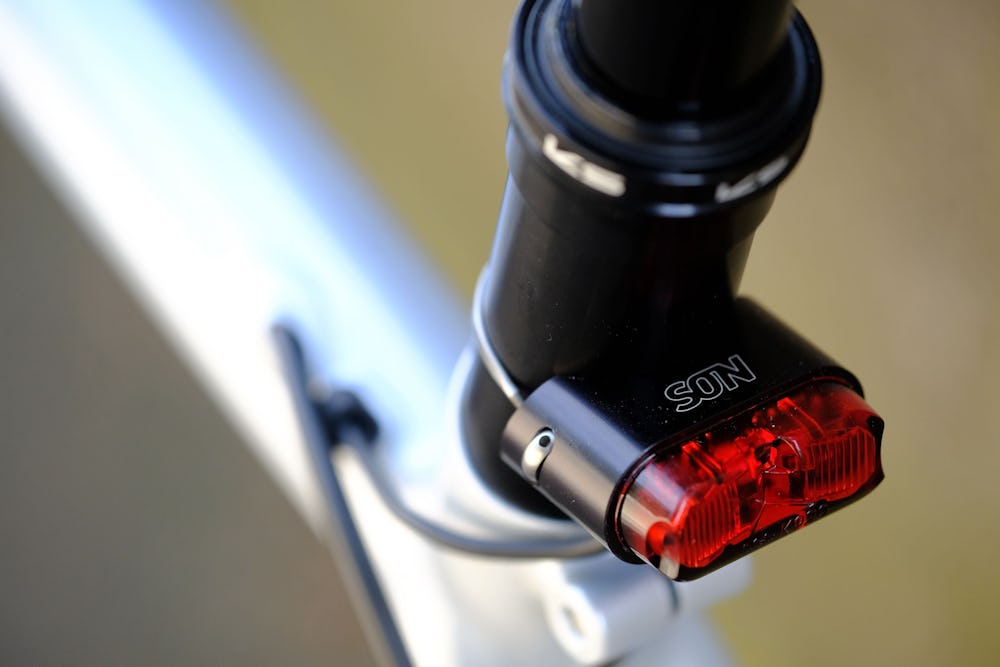 At the front, a SON dynamo hub allows Benoit to be self-sufficient in energy. This hub powers a front and rear light kit consisting of a Sinewave headlight and a SON lamp.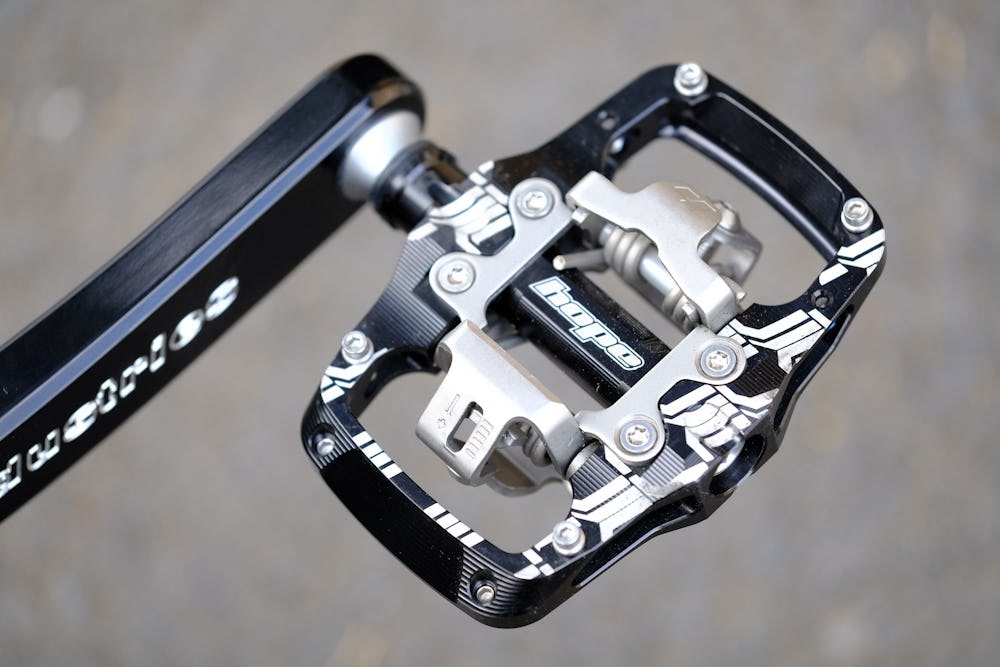 Benoit sometimes uses his Victoire for everyday trips, so he chose to install Hope Union TC pedals. Equipped with spikes, they allow, in addition to a good support surface in the paths, to be used sometimes without automatic shoes.
The paint of Victoire n°486 consists of three metallic colors : two for the frame, one for the markings. Pearl white covers the rear triangle of the bike, joining the front triangle painted in gradient lavender blue. The markings are metallic gray. The whole thing was finally clear-coated and polished by hand for a rendering that will stand the test of time.

The color composition and the choice of anodizing of the components are reminiscent of the colors of the French flag, a nod from Benoit to our desire for local manufacture!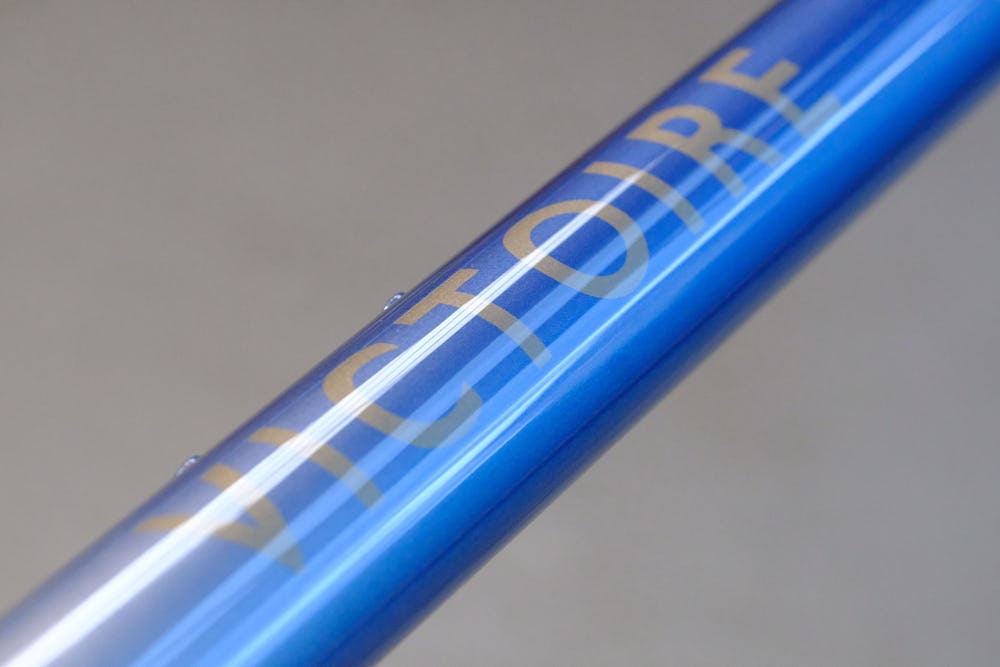 Finally ... to my size ! And what's more, it's beautiful and even magnificent, it's racy, with no-frills and finding back the Victoire friendly atmosphere was a good experience.
Benoit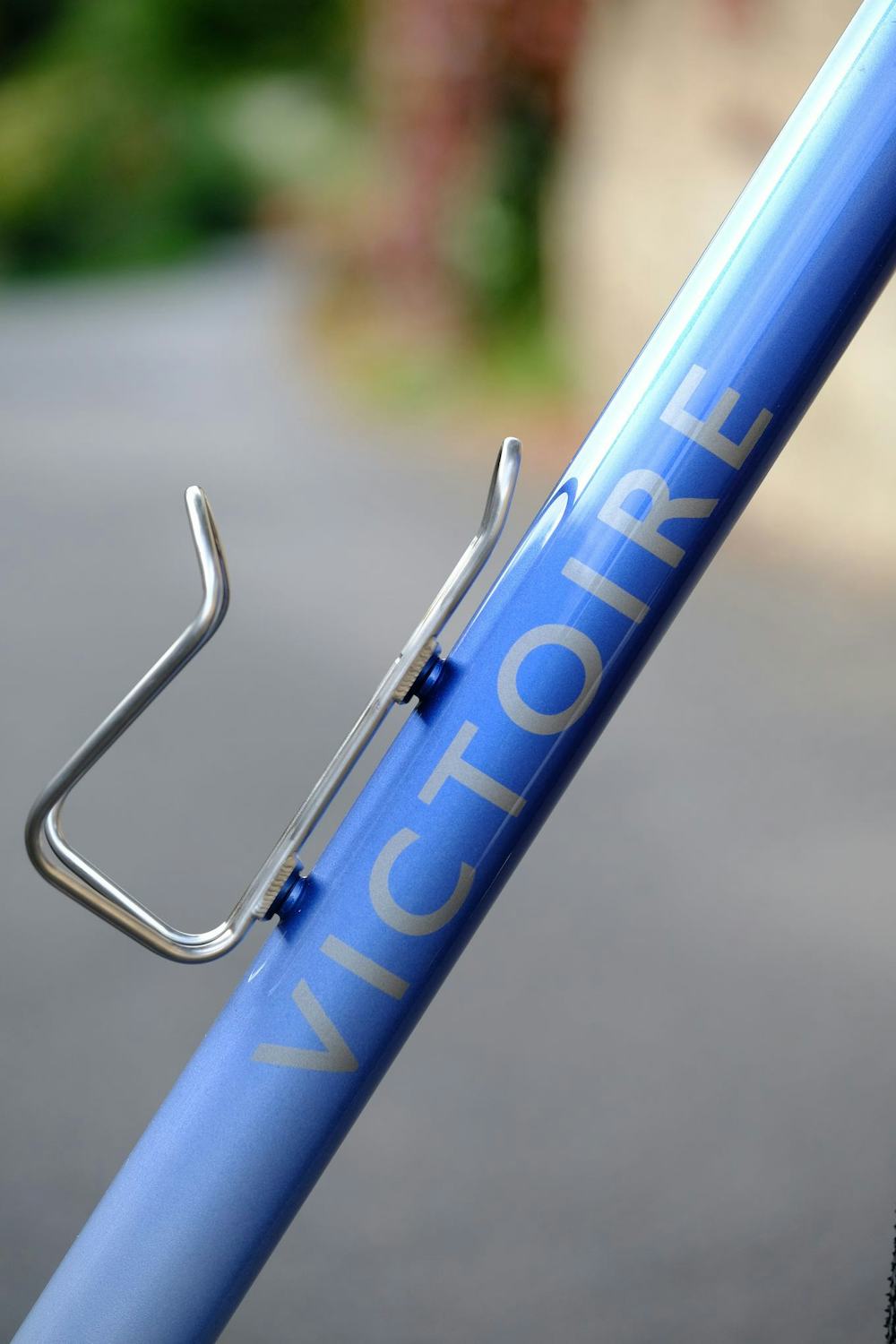 I found you guys to have a bike fitting to my size and it is not an easy task. Victoire was the best candidate, since I live in Chatelguyon. I rode as I had never done with my previous bike (Dutch bike, so as much to say that the paths was not something possible), a real feeling of freedom, of lightness. The bike is super lively and goes everywhere. Well, I'm still learning to master it (more complex than my Dutch bike ...) : I'm starting to know how to play with the saddle adjustment and the handlebars levers, but it fits.
In the months to come, I would like to go out with it twice a week at noon (but maybe I'll review that with the actuel temperatures ....) and go to work by bike once a week.
I had in mind a bike that was fitting my morphology to explore the pathes around Chatel. The result is here : thanks again.
Benoit