Eric wanted a versatile gravel bike that could just as easily allow him to go out on roads and paths as to go roaming for several days. He gave us carte blanche for the realization of this project presented at the Chris King Open House 2021, in Portland.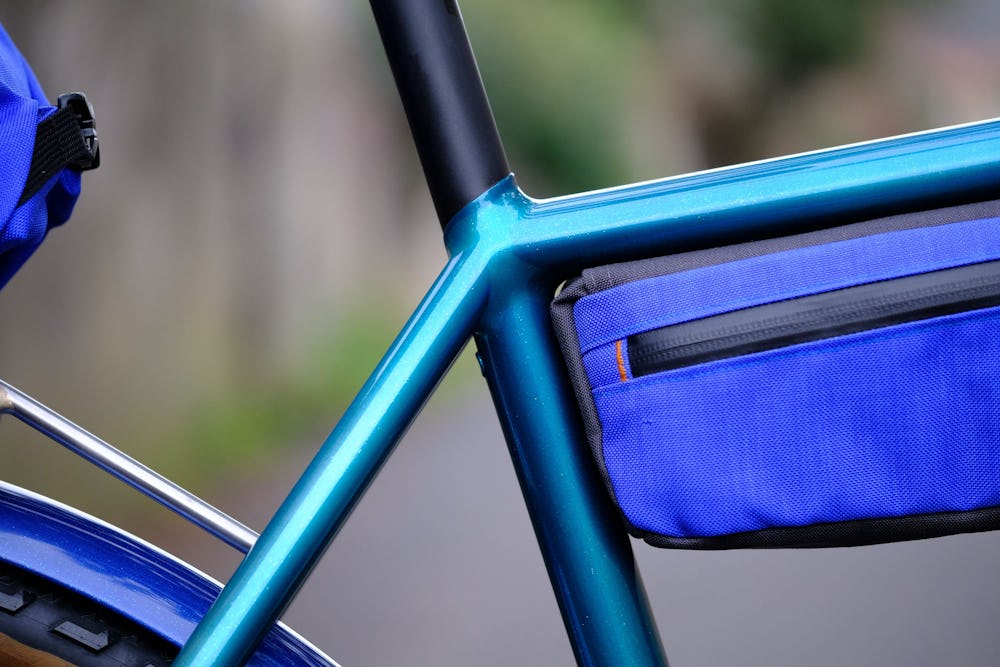 The Victoire n°507 is made from the Columbus XCr stainless steel series. Its hydroformed upper tube has a flattened octagonal profile. This shape manufactured by Columbus is exclusive to Victoire for XCr tubes. This feature allows excellent lateral rigidity while benefiting from vertical flexibility providing comfort. This tube also generates a good interface for the screw-on frame bag, thanks to a flat surface that perfectly matches the shape of the latter.
The frame has many eyelets for attaching bikepacking saddlebags but also two light luggage racks of our manufacture.
These models of luggage racks, originally developed for the Victoire n°491, can be installed and removed very quickly. They are very practical when the customer has to frequently change his configuration depending on the type of outings he performs. they allow the installation of three additional saddlebags at the back of the bike as well as a bundle at the front.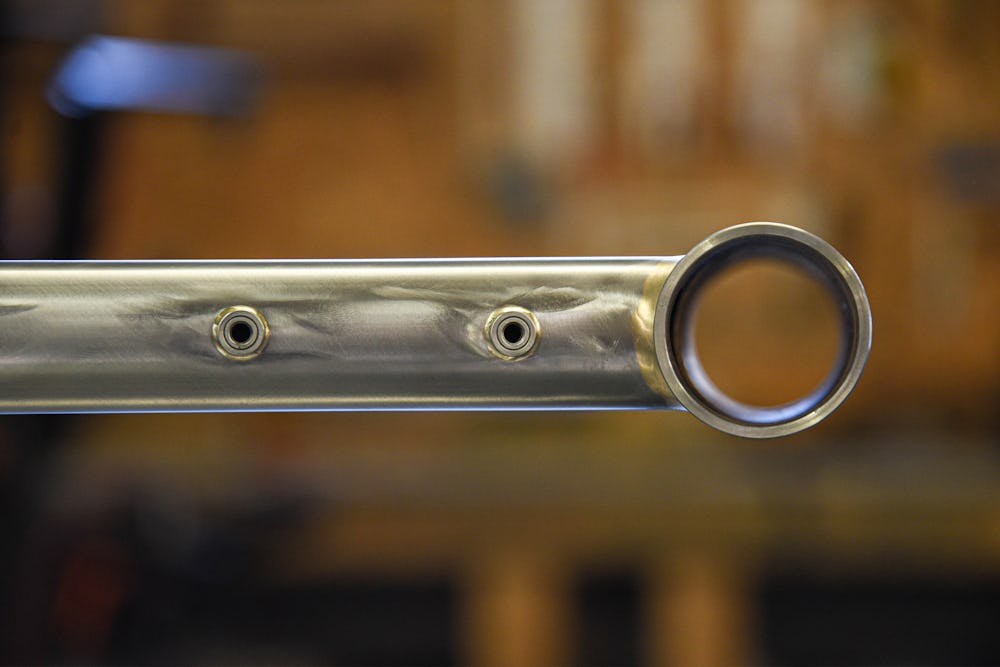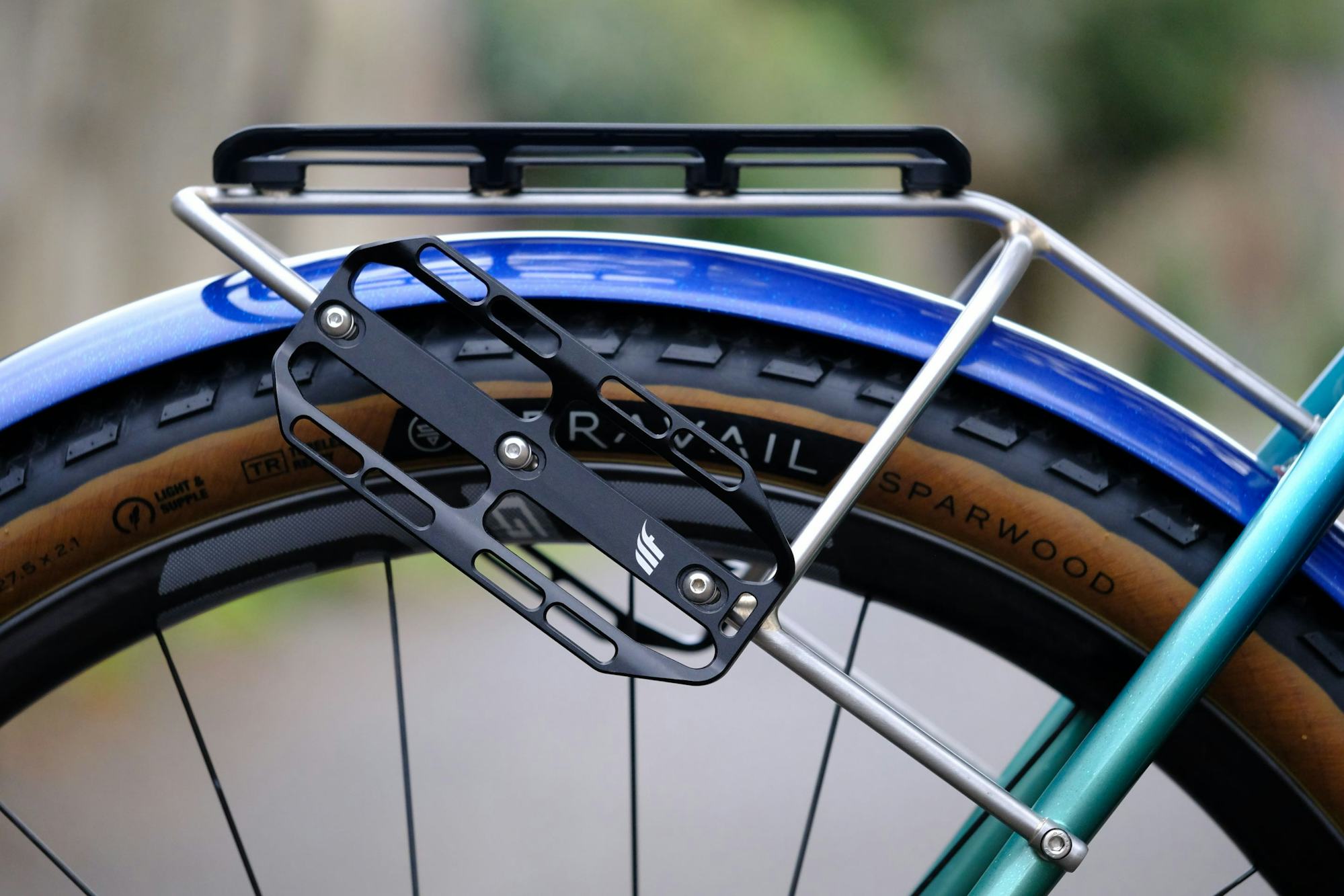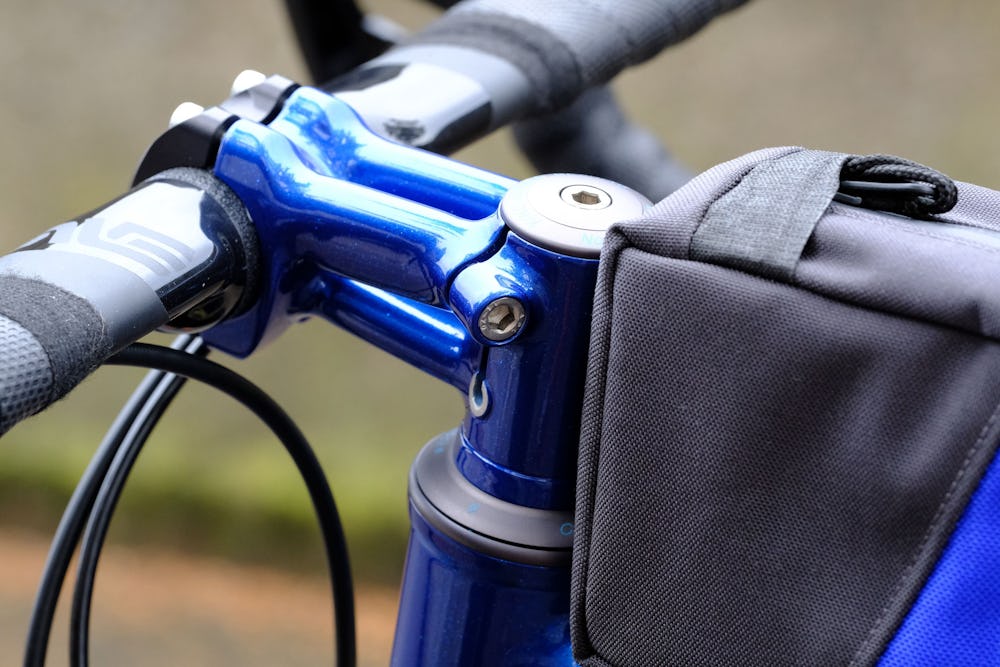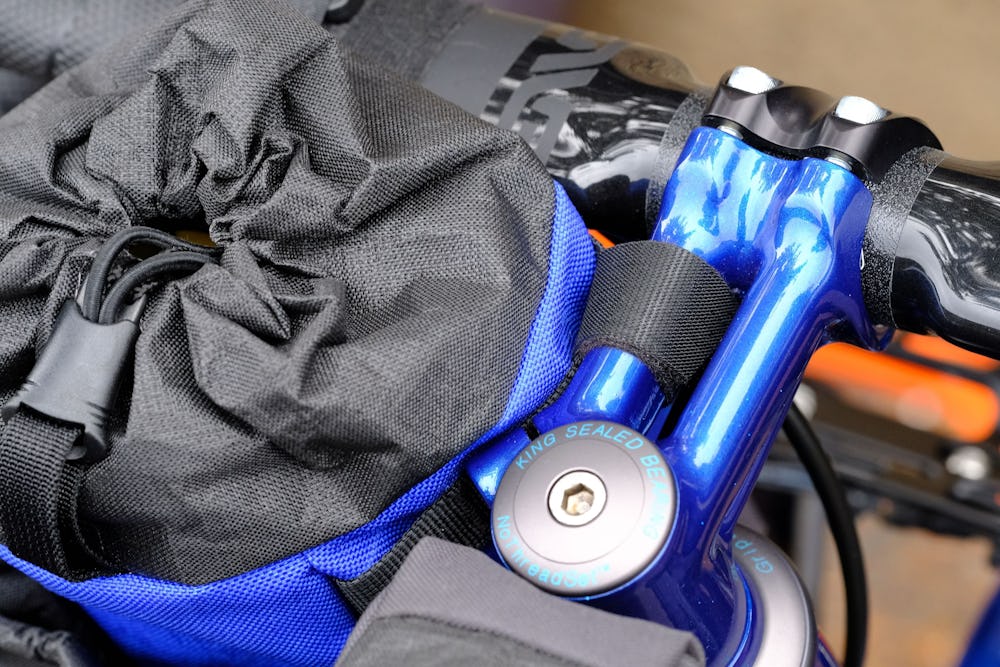 La potence du Victoire d'Eric n'est autre qu'une René, notre modèle de potence sur-mesure dont le nom est un hommage au cadreur français René Herse. Ce modèle est fabriqué à partir de trois tubes de 16mm qui sont à l'origine des haubans Columbus Max. Leur forme profilée s'adapte parfaitement à l'esthétique d'une potence, et rappelle les potences aluminum présents sur les René Herse d'époque.

Ce modèle de potence est courant sur les réalisations Victoire les plus complexes. L'exemplaire d'Eric est le premier à recevoir un serrage de pivot de fourche sur le coté. Cela épure la potence et créé un rappel du serrage de selle masqué dans les haubans.

Eric's Victoire's stem is none other than a René, our tailor-made stem model whose name is a tribute to the French framer René Herse. This model is made from three 16mm tubes that are the origin of the Columbus Max seat stays. Their streamlined shape adapts perfectly to the aesthetics of a stem, and is reminiscent of the aluminum stems found on the René Herse vintage. This stem model is common on the most complex Victoire designs. Eric's copy is the first to receive a fork steerer tightening on the side. This cleans up the stem and creates a reminder of the saddle tightening hidden in the seatstays.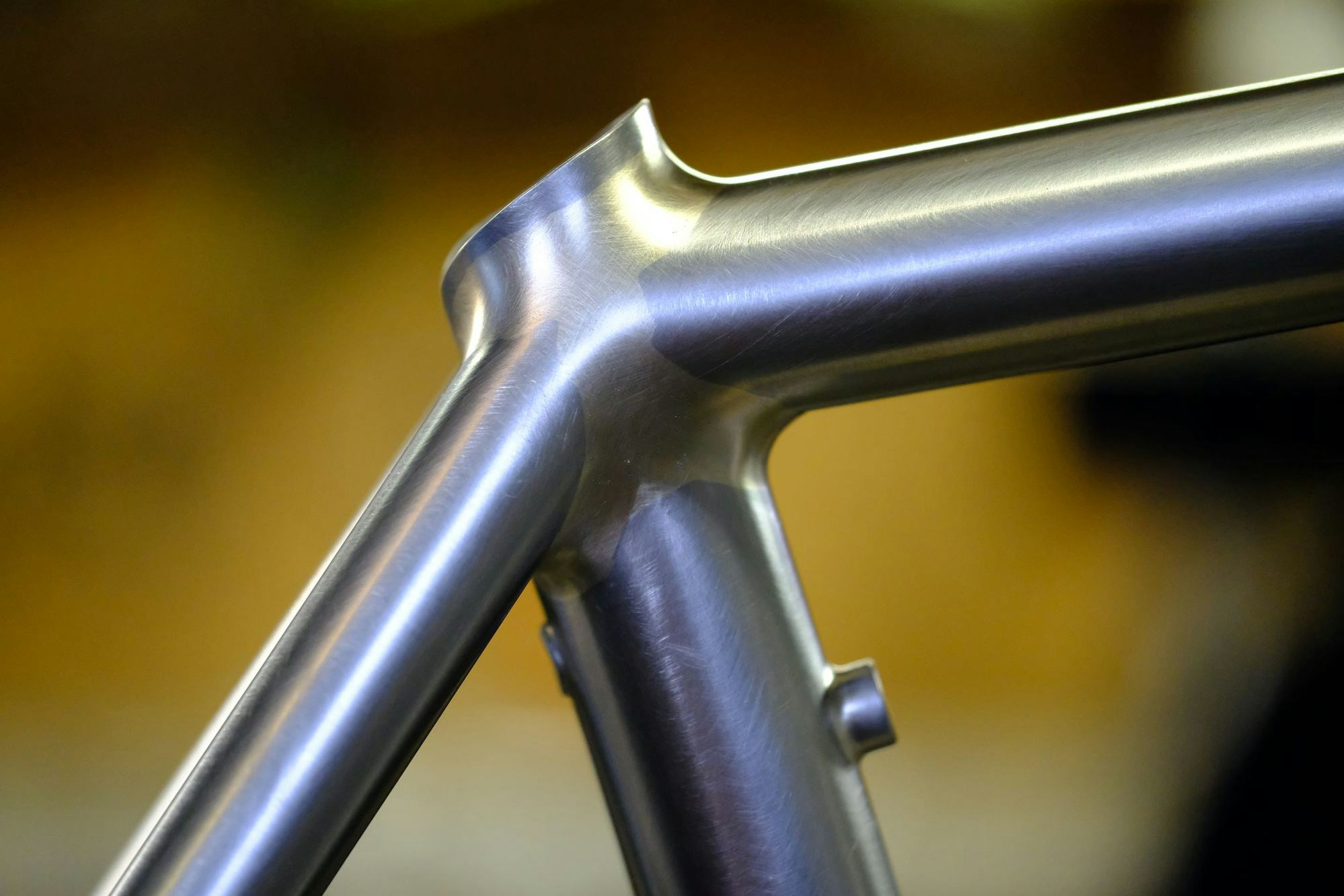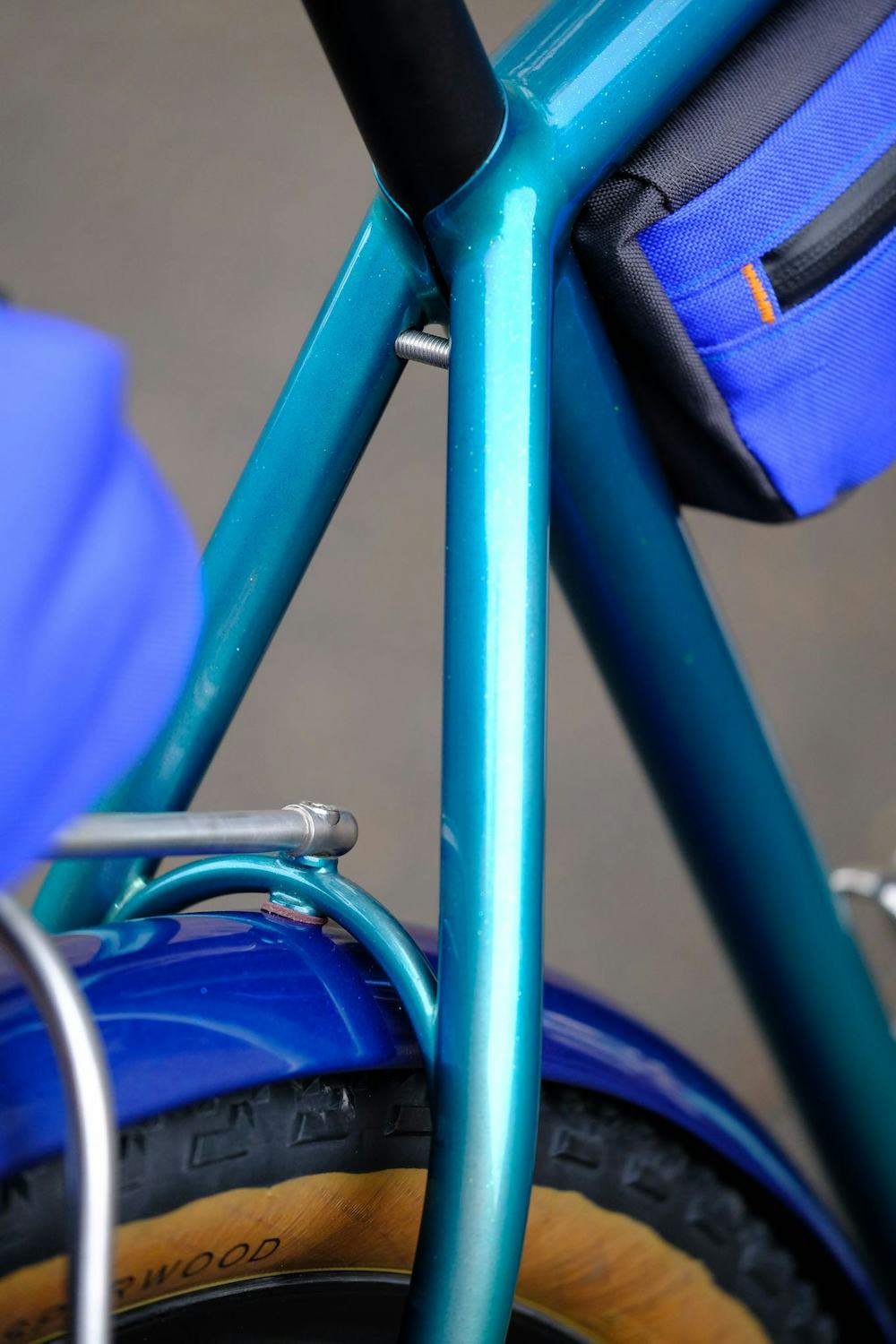 The seat post clamp of the Victoire No.507 is integrated into the seatstays. This option, available for all Victoire bikes, makes it possible to completely hide the tightening mechanism on the transmission side of the bike.
The seat tube bears the punch of Olivier, our framer and production manager in charge of the realization of this project.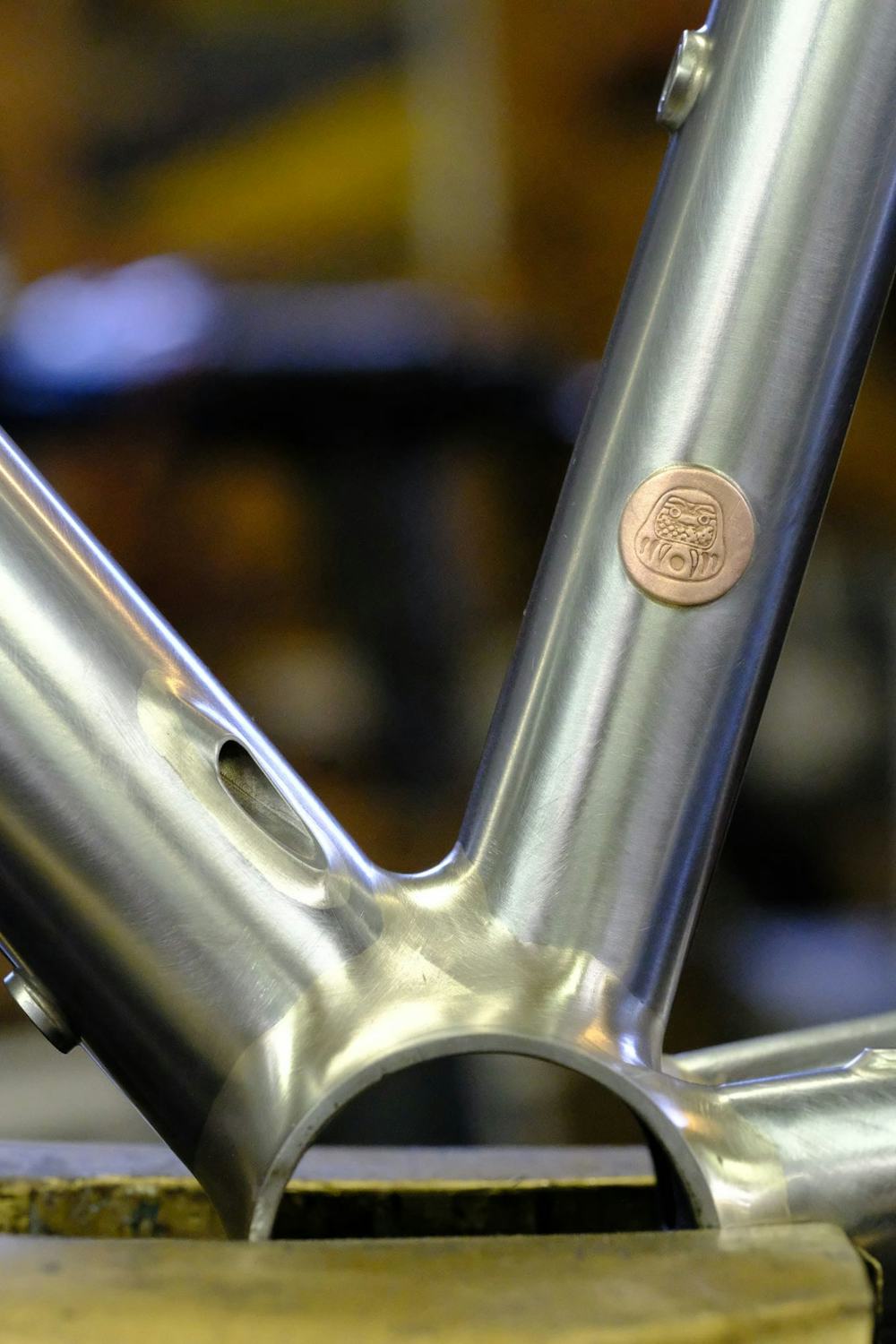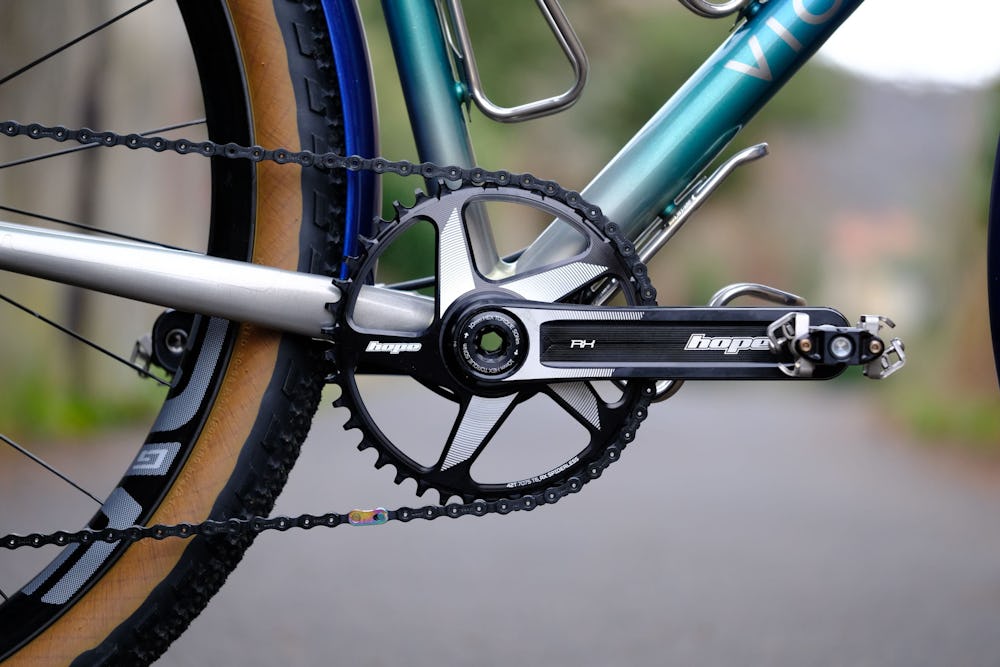 The crankset chosen by Eric is supplied by Hope, a British equipment manufacturer renowned for the durability and quality of their products. This is their model for road and gravel, without star (the crown being attached directly to the crank) and equipped with a 42 tooth chainring. In association with a Sram Eagle XX1 cassette in 10 - 52, this drivetrain set offers Eric a wide range of development.
The braking system of the Victoire n°507 is also provided by Hope, with their RX4 model chosen in a black anodization and associated with Sram levers. Originally intended to work with an 11-speed derailleur, these levers were modified using a Ratio kit to drive the Sram XX1 MTB derailleur compatible with the Eagle 12-speed cassette.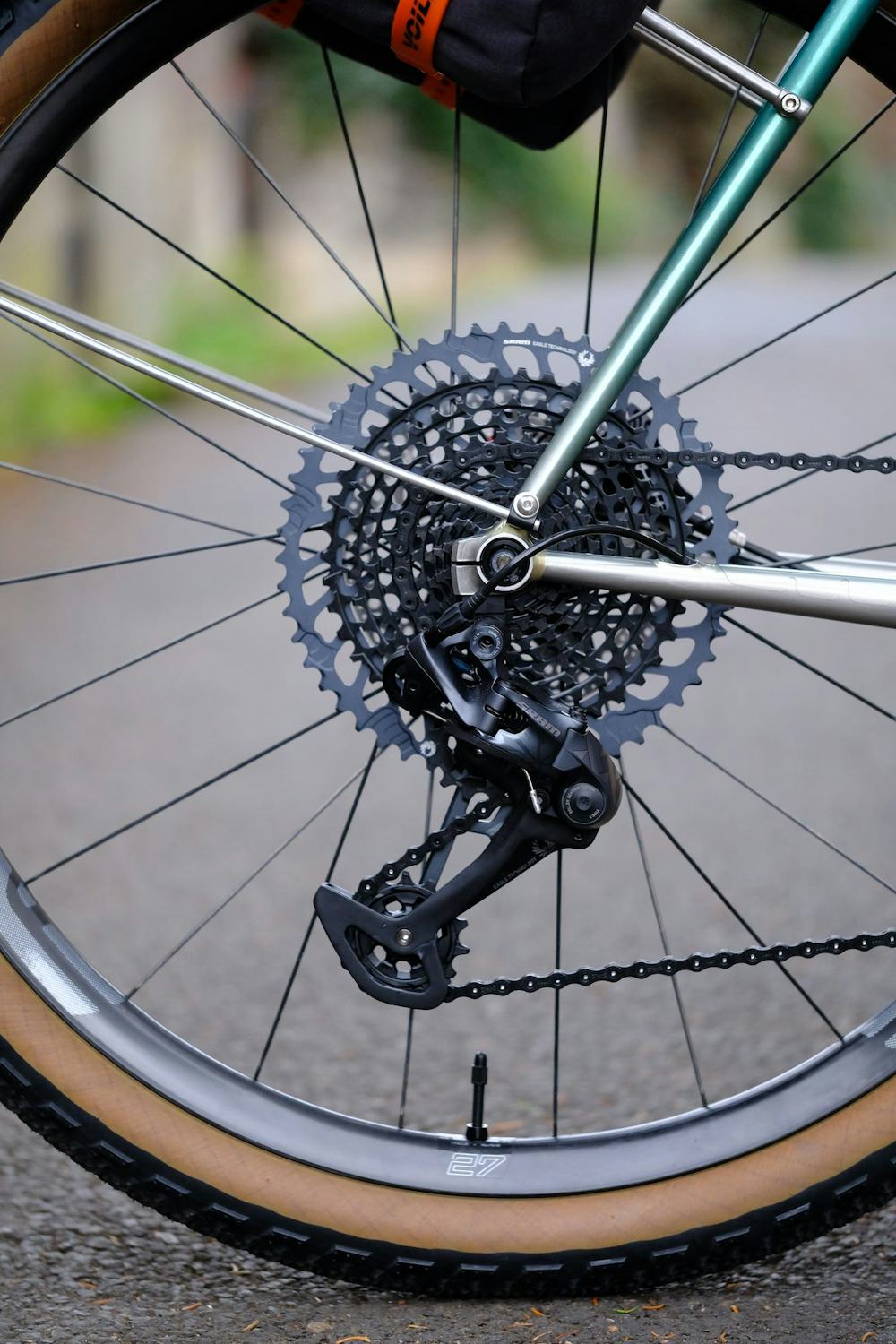 The front hub of Victoire #507 is a SON dynamo hub, allowing Eric to be self-sufficient in energy when riding. This hub supplies a front (Sinewave) and rear (Supernova) lighting kit as well as a USB port for charging an electronic device.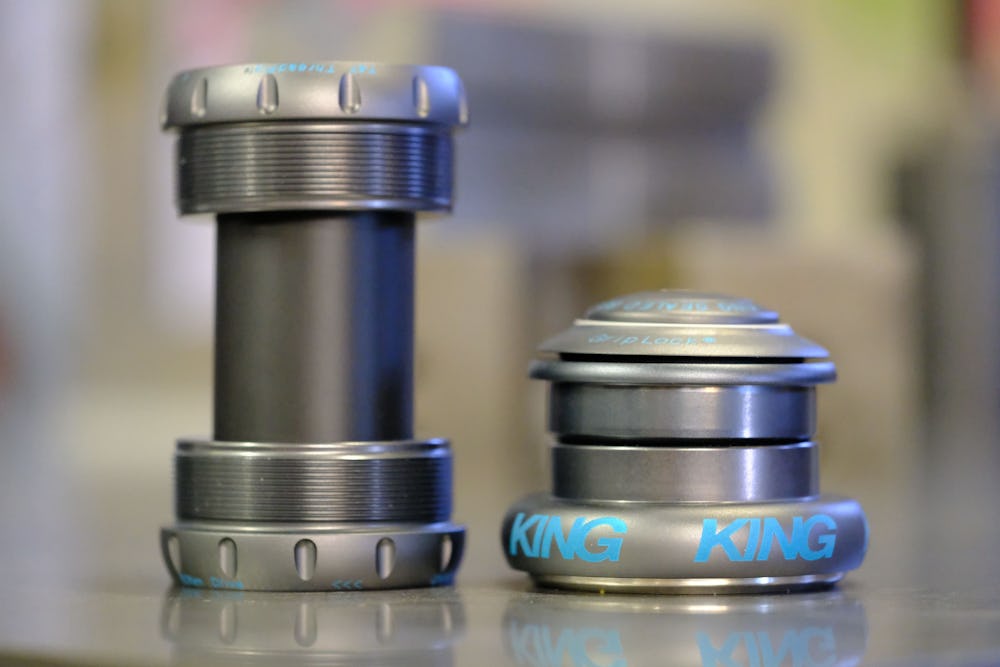 Chris King is an American equipment manufacturer with whom we have worked for many years. The impeccable quality of their products, guaranteed for life by the manufacturer, corresponds to our desire to offer durable bikes, designed to be used for a lifetime. After a first invitation in 2019, Chris King again called on us to present their new range of anodizations.

The brand new colourway presented by the manufacturer at their annual event. Unfortunately, we have since learned that Chris King will not be releasing this color in the coming months due to the shortage of components and the backlog of classic products.

This makes Eric's project even more unique, with only five or six Chris King parts kits ever made in this colourway.
The Victoire n°507 is thus equipped with a headset, a rear hub and a Chris King bottom bracket in gray and blue, whose aesthetics have directed the paint and the color of the saddlebags of this project.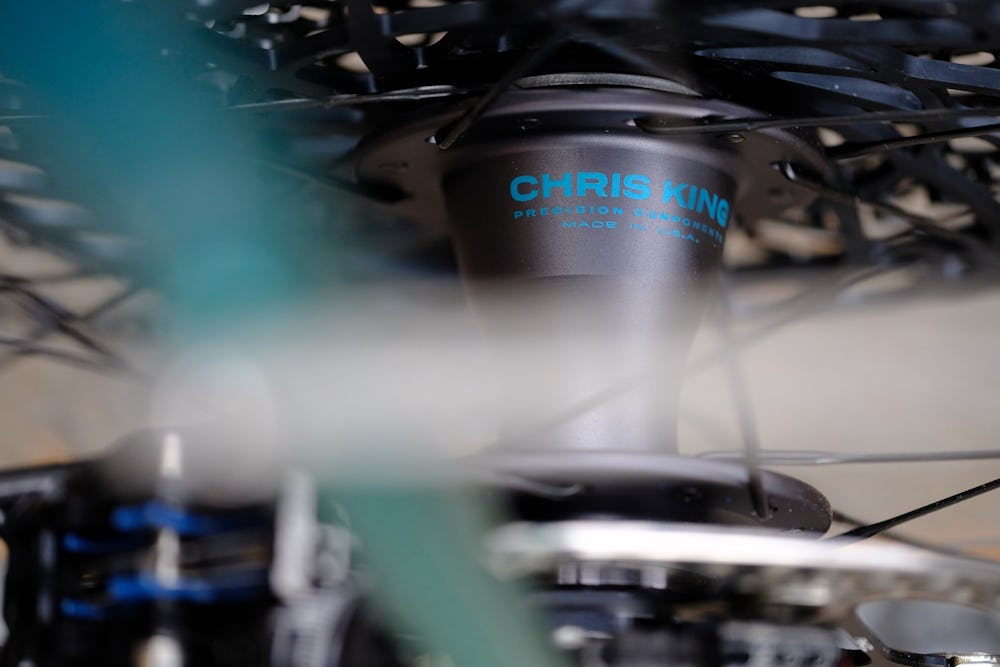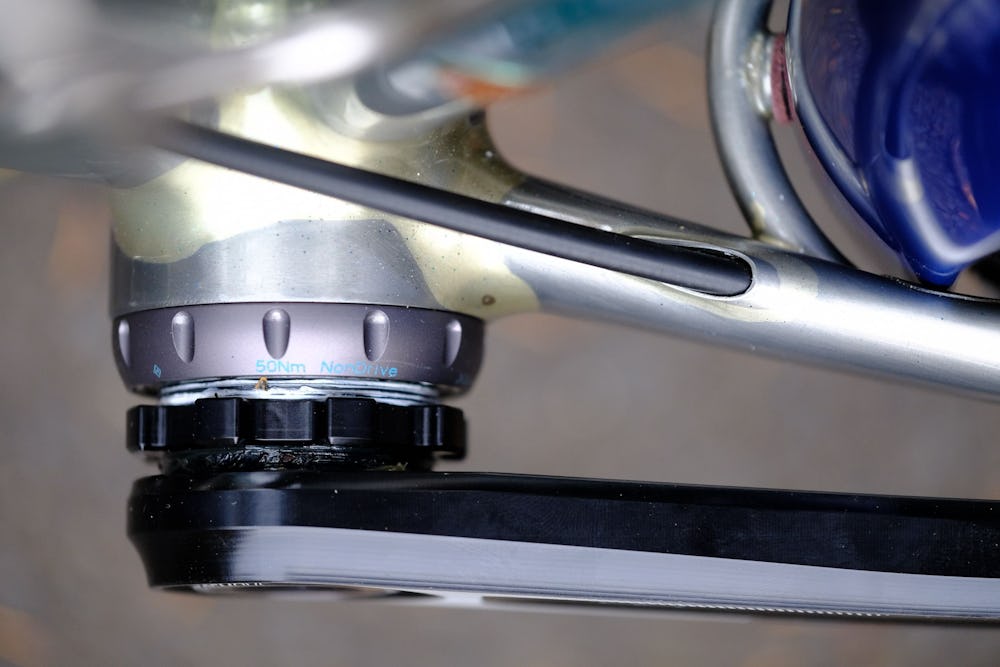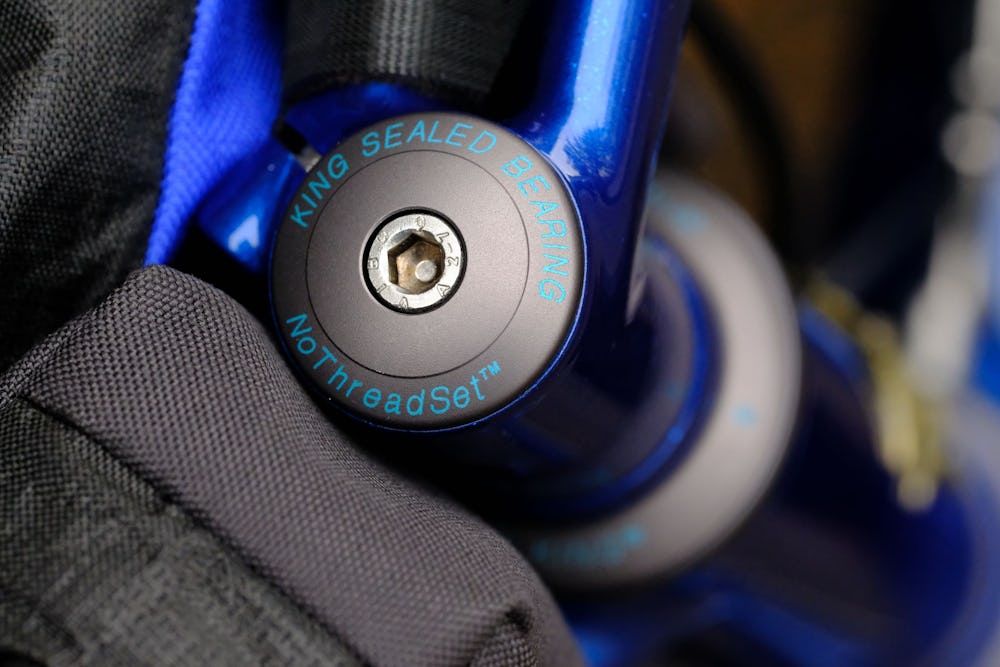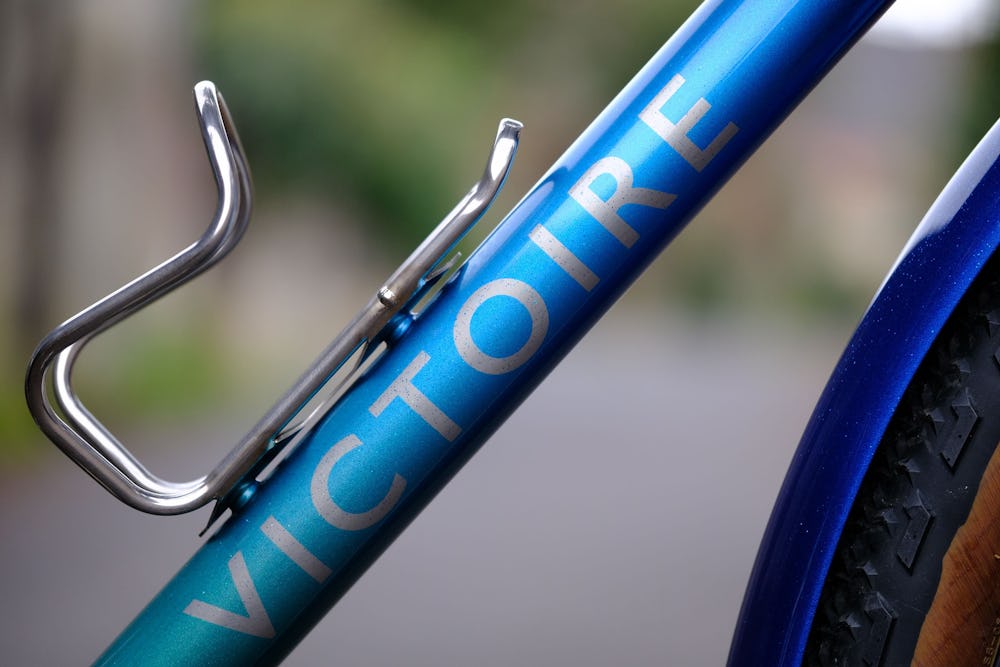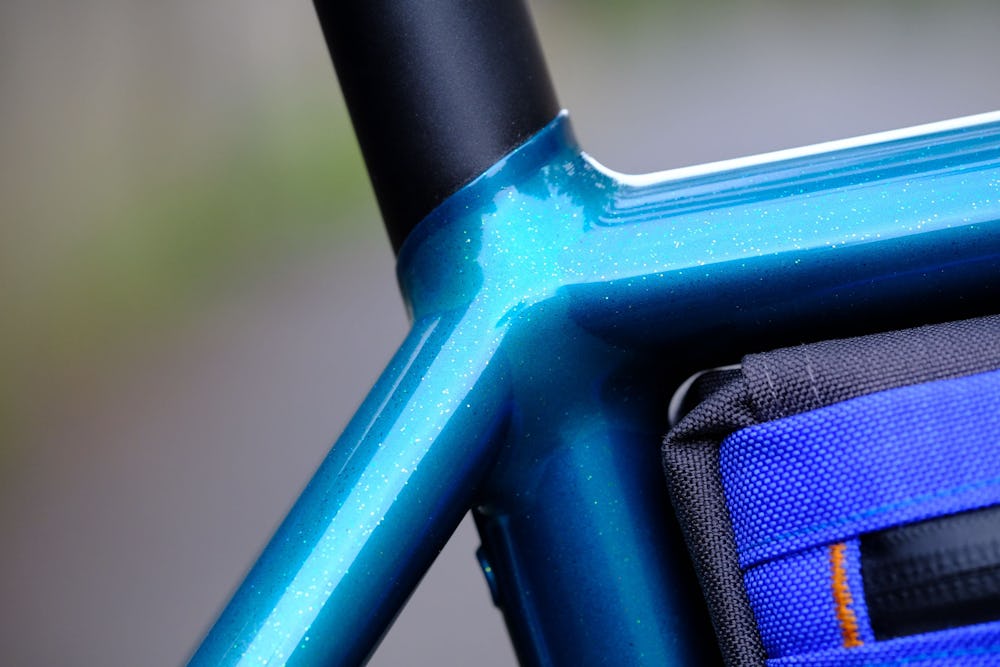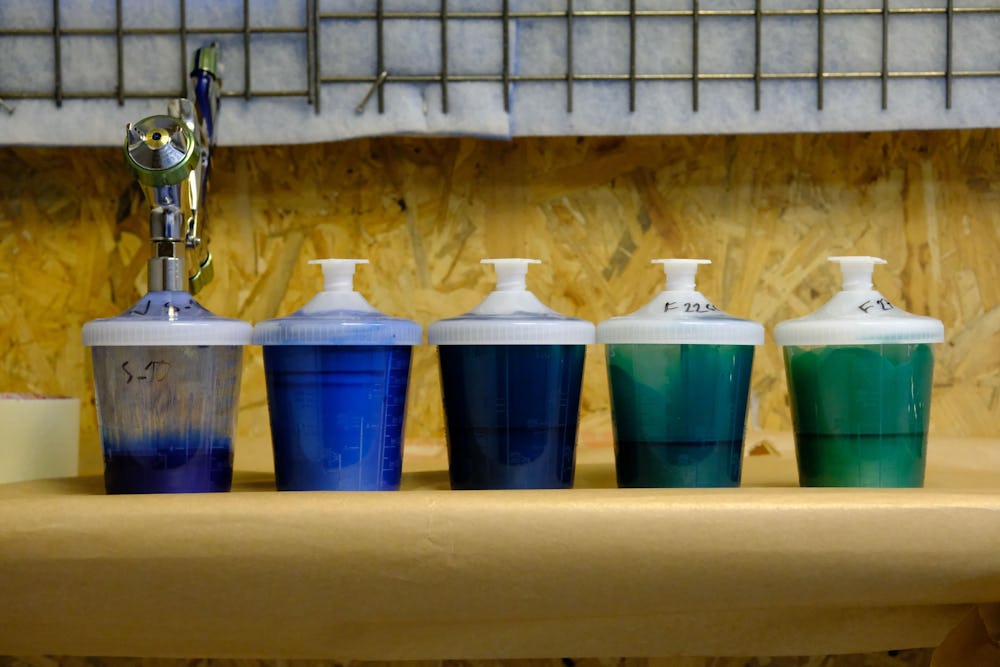 The paint of Victoire n°507 consists of no less than 5 different colors ranging from navy blue at the bottom of the fork to green, from the front to the rear of the bike.

The area around the bottom bracket as well as the bases of the bike were simply varnished in order to reveal the weld seams and the stainless steel of the frame. The Victoire logo also reveals the stainless steel of the lower tube under the layer of varnish.
Mudguards and stem have both been painted with the blue used on the front of the bike. This allows them to be integrated into the visual line of the bike, creating a cohesive whole.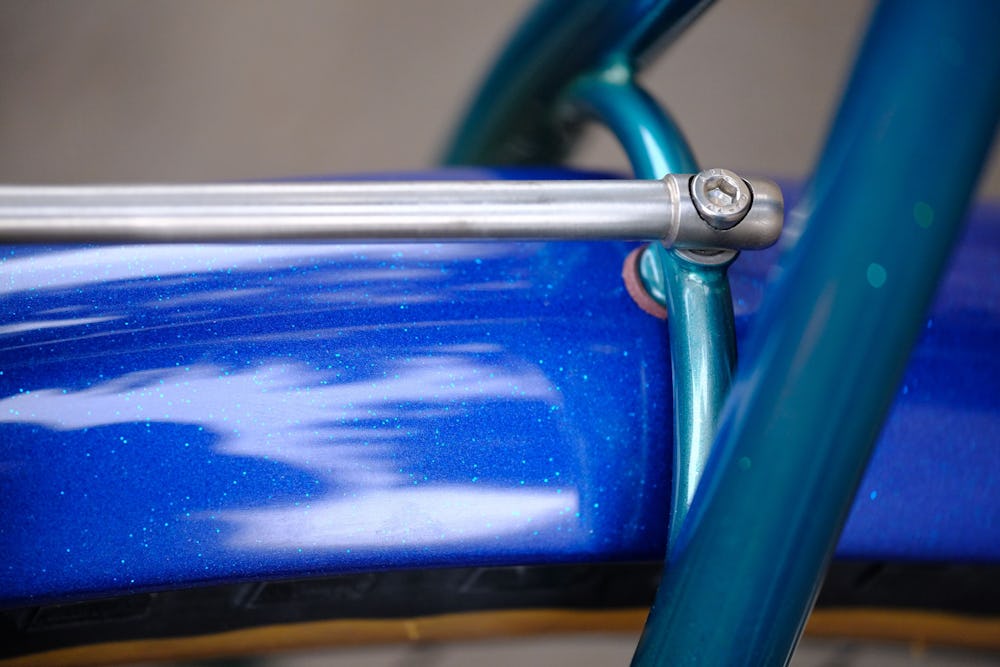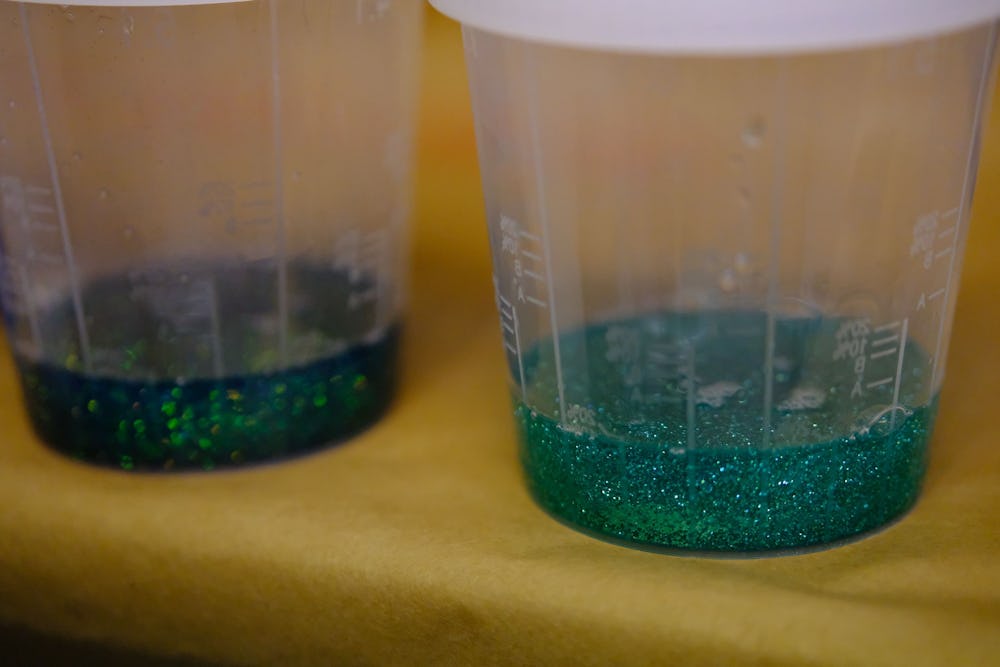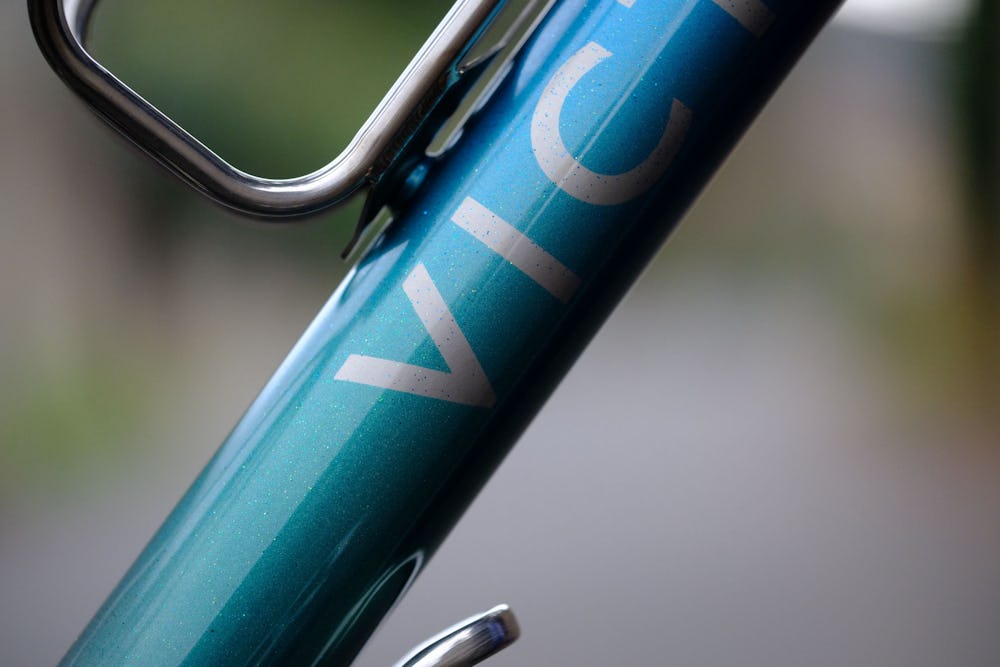 A gradient of 4 different colors of glitter was then applied to the frame, then covered with a final layer of varnish which was polished by hand for an impeccable result.
The Victoire n°507 has bikepacking bags made entirely by hand and tailor-made specifically for this project. Using reclaimed materials, they were made by What Happened Outdoor.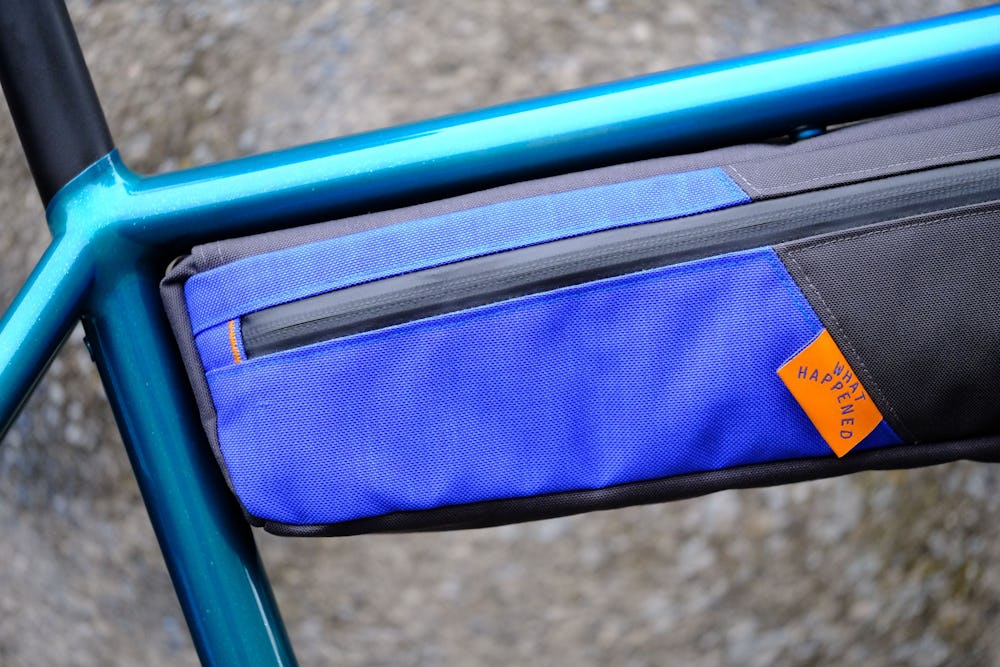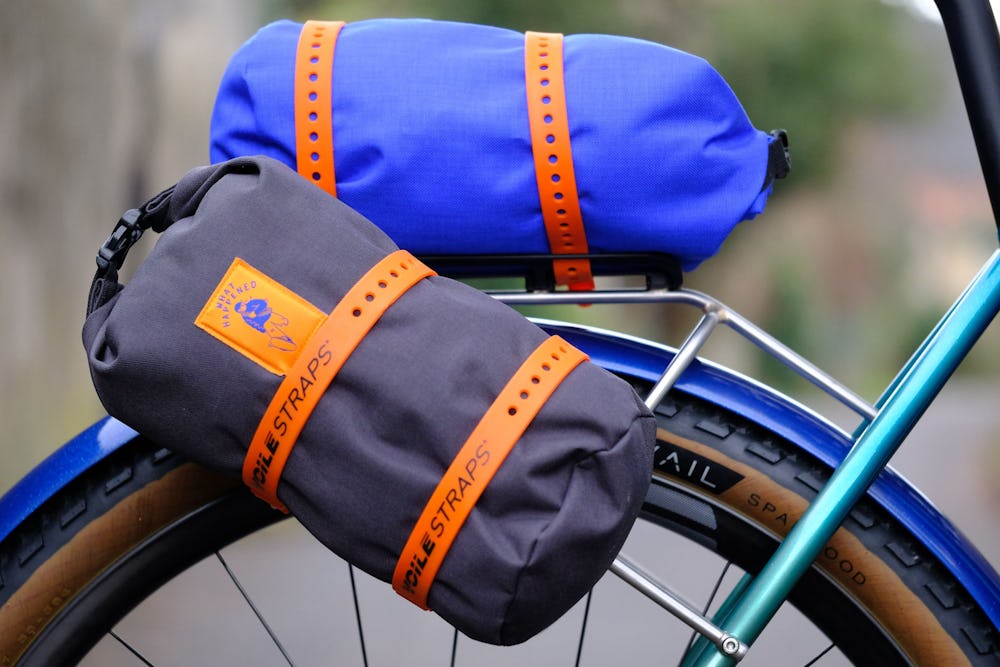 This kit consists of two fork bags, two frame bags and three bundles placed on the rear rack. They were ordered in gray and blue colors that match the finish of the project.

This set allows Eric to go on an adventure while taking with him everything he needs for his autonomy.
To ride, I tried everything: snow-covered roads, frozen cycle paths, gravel and mountain biking trails with plenty of snow. Good hold, comfort, handling. What fun!
Eric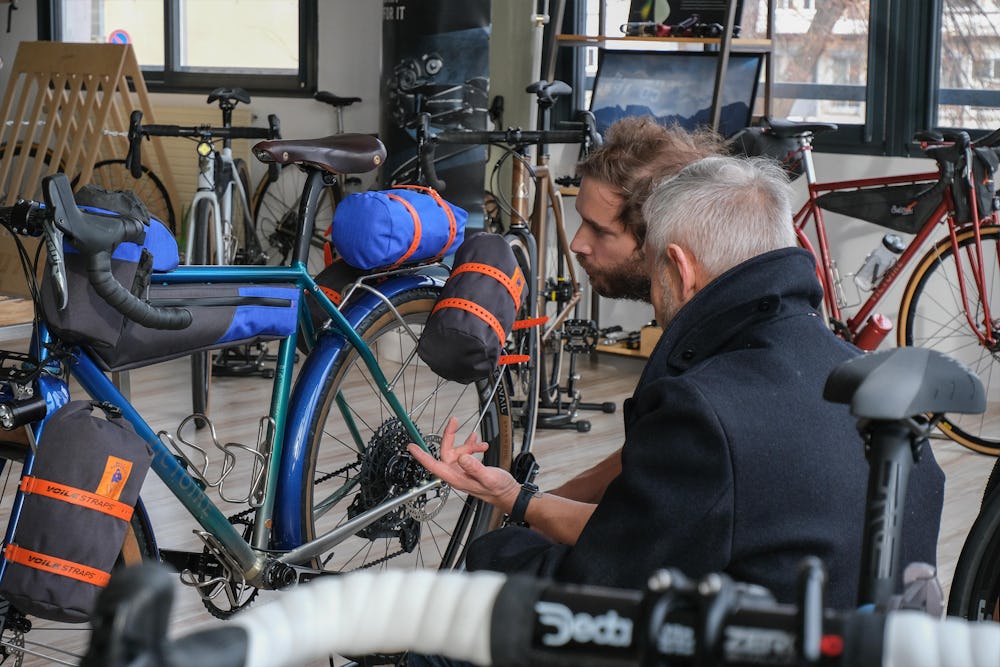 Eric came to pick up his Victoire at the workshop once the bike returned from the Chris King Open House. It was an opportunity to discuss with the speakers who made the bike and for him to discover it from all angles for the first time.
I had been looking to get a custom steel bike made for me for a long time. I always had a fondness for handcrafted products, unique products of quality and reliability. I discovered Victoire several years ago and found your creations to be magnificent. Also, I grew up in the same region, where, as a teenager, I discovered the freedom that 2-wheel adventure can offer. A little homecoming, so...

I wanted a bike that I could be comfortable on for hours on the road as well as off-road. In addition, I wanted an adventure bike capable of carrying gear for rides over several days and still maintaining maneuverability. I had a good idea of ​​what I wanted and what I didn't want, but I wasn't quite sure what the geometry of a bike like this could look like. So a lot of requirements, hence the importance of being able to count on the expertise and know-how of Victoire for the final design of my bike. Aligning with the 2021 Chris King Open House project was an added bonus in terms of choosing very high quality and reliable components!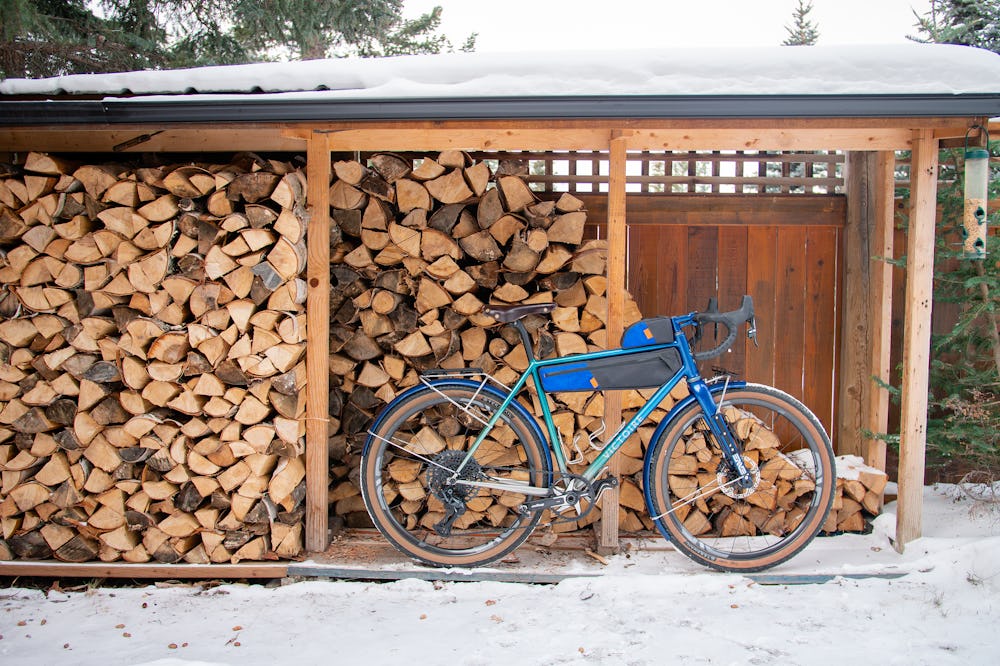 I finally managed to make my first bike ride this year. The temperature rose to -10 ° and I took the opportunity to take a little trip in the snow. What happiness is this Victoire!
My expectations for recovery were very high, so I was a little nervous in anticipation ! Was it going to live up to my expectations ? I was not deceived. A treat from far and near !
Eric